Restaurant & Dining
Restaurant Information
The Shadow Glen world-class clubhouse is the sophisticated centerpiece of the Club.
Stunning design features include an interior stone waterfall,
high vaulted ceilings, skylights and an abundance of windows lining the dining areas.
A free-standing fireplace is the focal point in the center
of the main dining room. The room also offers a gorgeous, breathtaking,
panoramic view of the course and bluffs
surrounding the area - a wonderful setting for any function.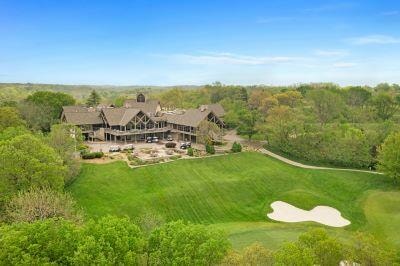 The Fireside Room, a place for informal gatherings or more formal intimate dinner
parties is located off the main lobby. The Director's Room offers privacy
and is designed for business meetings up to 15.
Private meeting and dining rooms are available for every size of
event from small, casual luncheons to large formal banquets
and the menus offer a wide range of cuisine.
They are perfect for business meetings, weddings, family gatherings or any event
that calls for gracious surroundings and friendly service.
A men's card room, with a bird's eye view of the 18th fairway and green,
and an informal Mixed grill room are popular 19th hole gathering spots.
To make a reservation or for more information, call the Shadow Glen restaurant at 913.764.2299.